Out and about the most awarded project beyond Thane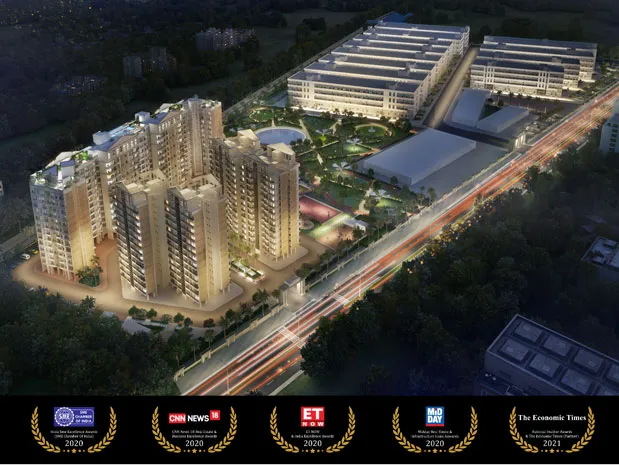 Empire Industries LTD., a real estate developer located in Ambernath West, Mumbai, Maharashtra has unveiled a new township project "Empire Centrum" that comprises both residential and industrial segment.
Empire Centrum's new Township Project, which is both a Township and an Industrial Destination Hub, is being created on 35 acres of land.
5 acres of the 35-acre site are dedicated entirely to residential ownership, with the most convenient rooftop amenities, an infinity pool and eight G+12/ G+13 storey towers. One of the most convenient features of this residential ownership is a landscape garden that spans 3.5 acres. When it comes to the industrial segment of the project, it is being built on a 28-acre plot of land.
The industrial segment of the 28-acre block of land aims to provide a location for SMEs, MSMEs, and manufacturing ventures.
Why is the locality of this project ideal for people who are looking out for an Industrial space?
Due to the proliferation of e-commerce and fierce competition for labor, the method of choosing a site for a warehouse, fulfillment center, or manufacturing facility has become much more challenging in recent times. Where inputs are readily and inexpensively available, industries are more inclined to locate.
However, a highway and railway connection for ease of transportation, as well as a 24/7 water and energy supply, are some of the main inputs that an industrialist looks for in an industrial location that makes it easier for them to distribute their commodities.
This project is being built on MIDC land, which assures 24-hour water and energy delivery, as well as a sub-electrical station and internal roadways that are 20 meters wide.
One of the most crucial requirements for an industrialist is having easy access to labor, it is claimed that there is an abundance of economic labor near the new Empire Centrum project, making it easier for industrialists to continue their operations.
The industrial segment of the 28-acre block of land aims to provide a location for SMEs, MSMEs, and manufacturing ventures.
Which type of industries are more suited for Empire Industrial Centrum?
The industrial site is suitable for a variety of industries, but those that fall under the white, green, or orange zones, such as the jewelry industry, mechanical industry, food-processing industry, or indeed any industry that does not use harmful chemicals, are the ideal industries that can operate here.
A quick rundown of the infrastructure:
1. A 4.5-foot-high loading/unloading bay has been built to help industry owners save money on labor by making it easier to load and unload goods.
2. Service lifts with a capacity of 2 tons that can be used to move things from one location to another.
3. Large Passages
4. A 16-foot-high Industrial Gala with a large entrance.
5. Exit doors in the unlikely event of a fire.
What may consumers expect in the future in terms of property investment appraisal?
It was witnessed that ever since Chikhloli Railway Station's commencement was announced the prices started rising and it is believed that in the near future when the trains will start moving, the prices will go even further.